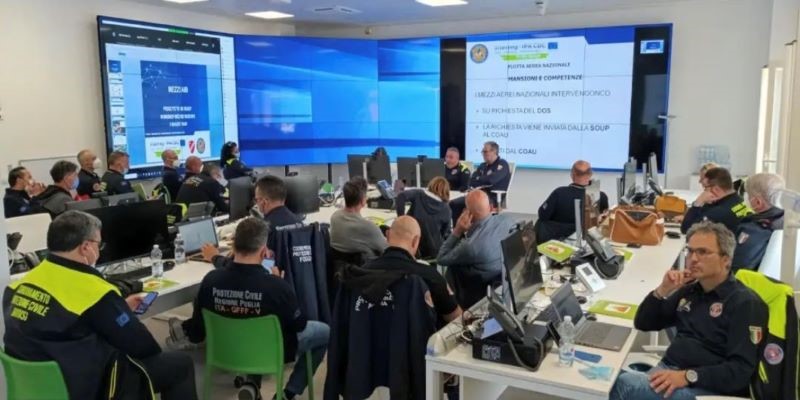 Bari: the outcomes of the workshop on forest fire risk management
Overview
The training workshop on forest fire risk management, under the project "To Be Ready, took place in Bari on 5 May 2022 at the Civil Protection Section of the Puglia Region.
The workshop was attended by the project partners (Molise Region in presence, Ministry of Interior, Directorate for Emergency Situations of Montenegro and Ministry of Defence of the Republic of Albania -connected remotely), the volunteers of the Apulia Region's European module for active forest firefighting using vehicles, as well as the representatives of the Provincial Coordinations of Civil Protection volunteers of the Apulia Region.
It represented not only an important opportunity to jointly address several key issues for those working in forest firefighting within the cross-border context (such as, for example, the functioning of the European Civil Protection Mechanism and the management of forest fires in the broadest sense), but it was above all a moment of confrontation, exchange of views and relationships between regional and extra-regional AIB operators.
The Civil Protection Section of the Puglia Region has emphasized how, with great commitment, it has launched a substantial path of cooperation with cross-border countries with the desire to strengthen relations of collaboration between the two sides of the Adriatic, providing human resources, tools and technical expertise. International cooperation in the field of risk management of civil protection emergencies constitutes, in fact, a fundamental element among the countries of the Adriatic basin: indeed, these countries have similar climatic, territorial and morphological characteristics and, consequently, are required to face natural and anthropic risks with a common approach.
The main focuses of the interventions were on the EU Civil Protection Mechanism, risk event management, emergency planningand the technical equipment used in fire fighting management. It was emphasised the importance of using standardised IT tools and terminologyas well as the importance of cartography for quicker communication between teams.The Civil Protection of the Molise Region presented the drones purchased under the project and their use in two emergency situations during firefighting (in the summer of 2021), emphasising their usefulness.
For more information, please contact tobeready[at]regione.puglia.it.